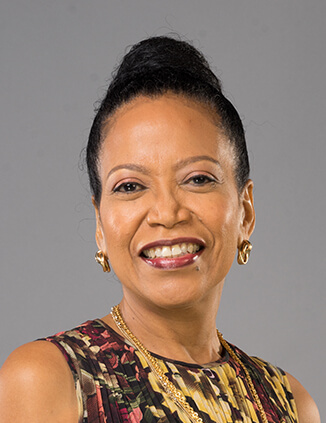 Audrey Welds, LL.B - Director
"As directors, we partner with the organisation's executives, by mutually-challenging each other to think 'outside the box', in the creation of win-win strategies."
Mrs. Audrey Welds has had a distinguished legal career encompassing both the private and public sector. She is now an academic boasting over a decade of experience in teaching legal courses at both the undergraduate and graduate levels at UWI, Mona. In her academic capacity, Welds has contributed to growing the body of knowledge in the field through several publications and participation in local and regional conferences.
Admitted to the Jamaican Bar in 1983, Welds' legal career began as an Associate at Rattray, Patterson, Rattray, Attorneys-at-law. She transitioned to the Bank of Jamaica as Assistant Director and Director (Legal) and subsequently to Mutual Security Bank serving as Assistant Manager, Legal Department and Assistant Corporate Secretary, before becoming a Partner in the Commercial Law Department at DunnCox, Attorneys-at-law. She holds a Bachelor of Law (LL.B) degree from UWI, Mona, a Certificate of Legal Education from the Norman Manley Law School and a Master of Law (LL.M) from the University of London.
An active member of the legal fraternity, she is a member of several subcommittees of the Jamaican Bar Association. In addition, she has served on the boards of various local companies and educational institutions.