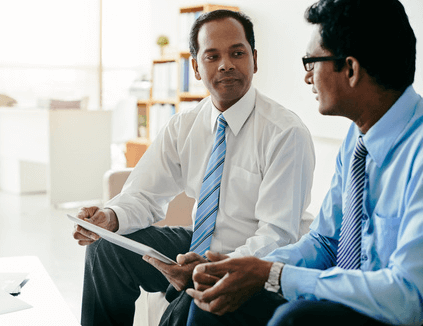 Employment at JMMBTT
Come join the family
At JMMBTT, we are a team. As a team, we want everyone to reach their full potential. That is why our organization is built upon the vision of unconditional love and mutual respect. We believe this vision carries beyond the walls of the financial institution. It is something we bring with us as individuals, to our society, and to our world at large.
We strive to innovate and do good deeds throughout our community. Through charitable and volunteer activities within society, we create a bond that is bigger than just a financial organization. Social responsibility is paramount to creating a better world.
Both inside and outside JMMBTT, we celebrate diversity. We believe in the One-Ness of all things, and believe when that is nurtured and developed, our shared vision becomes stronger. When a conflict exists, we work to achieve a positive outcome.
If you are interested in joining us, be prepared to be creative, to feel excited, to find passion, laughter, and fun. We have created a loving, caring, and honest atmosphere to breed success and goodwill. There should be no fear and no boundaries, only a family environment where we go above and beyond to serve our clients and one another.
Want to join the team? Send us your resume
Share your career profile with us!
Send Applications to:
The Culture and Human Development 
JMMB Bank (T&T) Limited
DSM Plaza, Old Southern Main Road
Chaguanas
Phone: (868) 800-JMMB (5662)
Email: ttbankcareers@jmmb.com
Assistant Manager, Personal Banking 
Job Purpose & Summary:
The Assistant Manager, Personal Banking will be responsible for actively managing and growing business from a portfolio of existing clients. 
The Assistant Manager will also be responsible for identifying and targeting new clients from which new business will be gained with a view to achieving set financial targets, ensuring overall client satisfaction.
Ensures that the branch's lending portfolio is of high quality and is fully compliant at all times with internal policies and local laws, regulatory and statutory guidelines.
Duties and Responsibilities:
 Markets the Bank's products and services to existing and potential clients by recommending new strategies to attract them, implementing call programs to reach them and delivering presentations to win their business. Leads external marketing initiatives of the branch.
Actively manages the branch's sales pipeline
Ensure that financial planning is delivered to all clients
Managing client relationships in adherence to the client partnership standards to ensure optimal levels of client care.
Manages team performance by identifying personal gaps and advising to Branch Manager for gap analysis and correction; Coaching Relationship Officers on an ongoing basis, to enhance the team's capability.
Supervises to ensure compliance with internal policies and standards and reviews all credit proposals to ensure the appropriateness of credit structure, adequacy of due diligence and credit quality.
Actively manages and minimize delinquent accounts in the portfolio.
Required Qualifications/Experience:
 B Sc. Finance, Economics, Management or related field
Associated certifications (if any) would be an asset
Minimum five (5) years practical experience in a banking environment, three (3) of which should be in Retail or Commercial Credit
 Experience in Relationship Management / Business Development role within Retail or Commercial Banking would be an asset
Minimum of two (2) years Supervisory experience