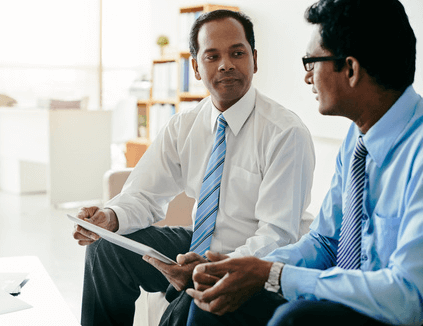 Employment at JMMBTT
Come join the family
At JMMBTT, we are a team. As a team, we want everyone to reach their full potential. That is why our organization is built upon the vision of unconditional love and mutual respect. We believe this vision carries beyond the walls of the financial institution. It is something we bring with us as individuals, to our society, and to our world at large.
We strive to innovate and do good deeds throughout our community. Through charitable and volunteer activities within society, we create a bond that is bigger than just a financial organization. Social responsibility is paramount to creating a better world.
Both inside and outside JMMBTT, we celebrate diversity. We believe in the One-Ness of all things, and believe when that is nurtured and developed, our shared vision becomes stronger. When a conflict exists, we work to achieve a positive outcome.
If you are interested in joining us, be prepared to be creative, to feel excited, to find passion, laughter, and fun. We have created a loving, caring, and honest atmosphere to breed success and goodwill. There should be no fear and no boundaries, only a family environment where we go above and beyond to serve our clients and one another.
Want to join the team? Send us your resume
Share your career profile with us!
Send Applications to:
The Culture and Human Development 
JMMB Bank (T&T) Limited
DSM Plaza, Old Southern Main Road
Chaguanas
Phone: (868) 800-JMMB (5662)
Email: ttbankcareers@jmmb.com
Client Partnership Officers
Job Purpose & Summary:
Suitable candidates will be dynamic and action-oriented individuals desirous of joining our team of highly skilled and trained professionals with the desire to win.
The Client Partnership Officer is responsible for actively managing a portfolio of borrowing and non-borrowing clients to ensure that contact strategies are achieved, opportunities to upsell and cross-sell solutions are crystallized and client satisfaction is achieved to ensure retention. This role is also responsible for identifying and targeting external prospects for new deposit and loan solutions in order to achieve set financial targets.
Duties and Responsibilities:
Working knowledge of both local and international financial (and investment) products, services, practices and procedures.

Working knowledge of the relevant sections of the relevant Acts governing the company, the Money Laundering Act and the Financial Institutions Ac

Working knowledge of the concepts, principles and practices of sales, customer relationship management, financial advisory services and spreadsheet applications.

Working knowledge of credit administration

Working knowledge of credit appraisal and analysis technique

Team-player with excellent interpersonal and communication skills

Passion for sales, relationship building and client care

Commitment to excellent grooming and professional imaging

Proficient in the use of Microsoft Excel, Word and PowerPoint

MUST fit with the CORE values of JMMB
Characteristics:
Self-motivated
Entrepreneurial spirit
Positive go-getter
Strong strategic thinking skill
Outcome thinker
Extroverted
Decisive and has a clear vision of his/her goal and objective and a plan of action to achieve it
Required Qualifications/Experience:
 Bachelor's Degree in Accounting/Finance/Business/Mathematics or equivalent professional qualification (e.g. ACCA)
Certified Financial Planner or Professional Certificate for Financial Advisors or Certificate in Banking or a Certificate in Finance or Accounting
Submit your resume to: 
The Culture and Human Development 
JMMB Bank (T&T) Limited
DSM Plaza, Old Southern Main Road
Chaguanas
Email: ttbankcareers@jmmb.com