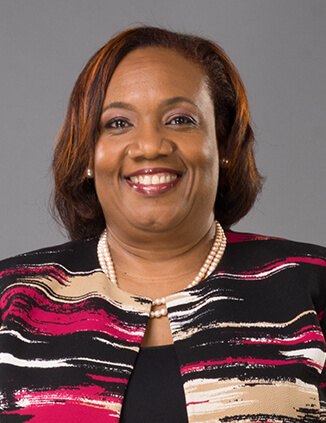 Audrey Deer-Williams, MBA - Director
"Sound corporate governance creates an environment in which there is balance among all stakeholder interests, thus enabling the achievement of individual, organisational and societal goals through the power within each JMMB team member."
Mrs. Deer-Williams is a financial management professional who has amassed almost three decades of experience through a diverse career path. She is currently Senior Director, Investments at National Insurance Fund where she is responsible for developing and executing strategies to grow the investment portfolio, currently valued over $70 Billion.
She previously worked at the Atlanta-based, Duncan Business Finance as an accountant. Additionally, she served as an operations coordinator and later financial analyst at two US-based companies. Prior to her stints in the USA, she worked with several local companies including the National Insurance Fund, First Cumberland Ja Stockbrokers and the Urban Development Corporation.
Mrs. Deer-Williams holds a Masters in Business Administration from Manchester Business School and a Bachelor of Science degree with a double major in Economics and Accounting from the University of the West Indies, Mona. An active member of the Church of the Transfiguration, with a strong desire to give back to the community, she currently serves as Chair of the church's outreach programmes. Additionally, she serves as a director on several Boards including: Joan Duncan Foundation, Sweet River Abbatoir and Supplies Limited, National Insurance Fund and a number of its subsidiaries.