Manage your finances
Electronic Services
The JMMB BankNet online banking experience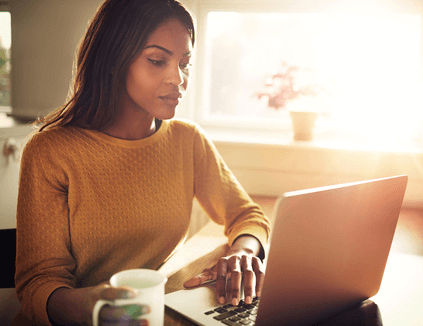 What is JMMB BankNet?
Imagine this: you just got home, you sink into your chair, and you read the news. There, you see the advertisement for your dream car, at a third the price it should be. But you have to buy it today. Do you have enough to cover the costs? You'll know in a heartbeat with JMMB BankNet.
JMMB Bank Net is a full online banking experience. You can check your accounts, anywhere, anytime.
Don't have time to run to the bank? No problem. With JMMB BankNet, you can bank from anywhere.
As long as you have an internet connection, you can bank with JMMB BankNet allowing you to make wire transfers whenever you need to.
Visit your branch to sign up and receive login instructions. 
What can I do on JMMB BankNet?
BankNet is like having your own personal bank right on your internet browser. Here are some of the service offers JMMB Bank clients have direct online access to:
Make transfers with the click of a mouse, which means
Make wire transfers, both international and domestic (to commercial banks in $TT)
Send internal transfers, within the JMMBTT network
Make bill payments to the Utilities
Know everything about your account, so you can
View your account numbers
Generate reports
See your transaction history
Order cash for collection 
Receive real-time updates, including
Security alerts
Transaction activity
Order cheque books
Online Security Tips: Securing Your Online Experience
For every new benefit of the internet, there's a potential new risk involved. That's why it's important to arm yourself with all the information and tools you will need to protect yourself.
JMMB Interactive
Build wealth today for future generations
Ensure a legacy for your children (and your children's children) with JMMB Interactive. This is our comprehensive international brokerage platform, allowing you to maximize your opportunities, anywhere, anytime. And with added perks, like the ability to access the advice of an expert partner and consult international research, you'll be well on your way to building that legacy.
Benefits:
Access all account information online, 24-hours a day
Kept safe in the US by regulated Interactive Brokers and protected by the US SIPC and an additional $25mm policy from Lloyds
Lower securities transaction costs with no custody fees
Access wholesale levels of globally posted markets online, including direct online trading
Link to your international bank account for 1-day transfers
Send wires and transfers in most major currencies, to accounts all over the world
View comprehensive investment performance reporting
Access online, on-demand learning tools, including webinars, Trader's Insight, and investment training
Minimum account size: US $5,000.00